If you've taken a look at our recipes section (if not, just check out the menu section), you'll notice we talk several times about using coffee machines, and in particular espresso makers.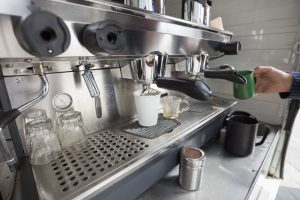 You can of course do everything by hand, but manual espresso techniques are quite a challenge to master. On the other hand, a machine can take just a few minutes to learn to use, and a matter of days to master.
It's also something that will be easy to pick up for other members of the household too – take our word for it – it soon becomes tiresome being known as the one that makes great coffee if you're doing things the slow way!
Just because you use a machine to make the espresso, doesn't mean there's no skill beyond that. You can be as creative as you like once the coffee is brewed – it's a case of quickly adding to it with a plethora of choices of flavourings and syrups to head towards your chosen creation. Speed is, of course, important as espresso lovers are well known for loving their coffee consumed hot.
In a few years, these machines have come a long way too, and you'll find the market has a lot of variation to offer too. If you don't know what you're looking for in order to enable you to create your DIY coffee masterpieces, take a look at this coffee machine reviews website, which gives you a run down of some of the most popular machines available today.
While that site focuses on the more expensive end of the market, there are also a lot of cheaper options too, some as low as £25. Have a look at Amazon to see what's available, and there's also some websites that focus on them. The downside is all the sites looking at the cheaper models tend to be aimed at the American market, so you may need to do a little bit of cross referencing to find the ones you can buy in the UK. Don't be tempted to buy an American product though, you're not likely to be covered under the warranty and it won't even have a UK plug!
As a final tip, there's always Currys PC World to have a drive down to – they've always got some on the shelves to look at, but they're often quite expensive compared to buying online, and since you're going to be getting an identical product it makes sense to go for the cheapest price you can find.